Werner MOHRIG & Mathias JASCHHOF
Sciarid flies (Diptera, Sciaridae) of New Zealand. - [Die Trauermücken (Diptera, Sciaridae) von Neuseeland.]

ISBN: 3-932795-08-3
Pages/Seiten: 101

Abstract: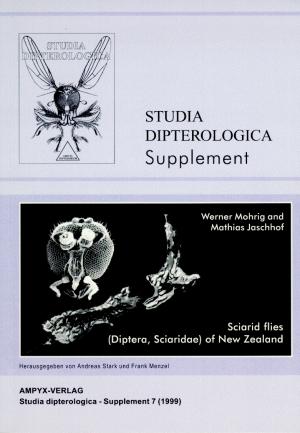 When New Zealand`s Sciaridae were reviewed for the first time by Tonnoir and Edwards in 1927, 19 species were recognised. At this time, most of the species were placed in the catch-all genus Sciara Meigen. In the present paper the authors list 53 species, resulting from a most recent revision of the available types of the Sciaridae previously described from New Zealand and completed by the study of an additional material collected by the junior author on the North Island in the southern summer of 1992/1993. Forty species are described as new to science. Such new information on this ancient group of flies in such a biogeographically remarkable region as is New Zealand provides a broader basis now for a zoogeographic discussion. The taxonomic results are rather unexpected: with the Palaearctic fauna in mind, New Zealand`s Sciaridae are fairly unspectacular. The 51 presumedly indigenous species belong to six genera which are distributed also in the Holarctic. The genus Corynoptera Winnertz alone is represented by 32 species. There is no endemic taxon at the supraspecific level. The relationship of the New Zealand fauna to that of the southern Palaearctic as well as of Micronesia is discussed, with the genera Epidapus Haliday and Corynoptera providing the examples. The analysis of the outer adult morphology in the Sciaridae indicates the existence of at least two age horizons within New Zealand`s fauna. In this context, the possible significance of Tertiary land bridges (inner and outer Melanesian arcs) is discussed. The number of species presumedly introduced to New Zealand by man is very small. The authors provide keys to genera and species, completed by detailed illustrations of diagnostically important characters for all the New Zealand taxa known to date.
Key words:
Sciaridae, New Zealand, taxonomy, new species, zoogeography, identification keys
Zusammenfassung:
In der ersten zusammenfassenden Behandlung der Sciaridae Neuseelands durch Tonnoir und Edwards im Jahre 1927 wurden 19 Arten anerkannt. Zeitgemäß wurden dort fast alle diese Arten in der Sammelgattung Sciara Meigen vereinigt. Mit der vorliegenden Arbeit werden 53 Spezies aufgelistet, einerseits als Resultat einer jüngst erfolgten Typenrevision der neuseeländischen Sciariden, andererseits im Ergebnis der Untersuchung zusätzlicher Trauermücken-Aufsammlungen durch den Zweitautor auf der Nordinsel im Südsommer 1992/1993. 40 Arten werden als neu für die Wissenschaft beschrieben. Auf der Grundlage der nunmehr gewachsenen Kenntnisse über diese stammesgeschichtlich alte Dipterengruppe in einer biogeographisch äußerst interessanten Region werden auch zoogeographische Aspekte diskutiert. Die taxonomischen Ergebnisse der Untersuchung sind eher unerwarteter Natur: eingedenk unserer Kenntnis der paläarktischen Sciariden-Fauna müssen die Trauermücken Neuseelands als ziemlich unspektakulär gelten. Die 51 offensichtlich indigenen Arten gehören 6 Gattungen an, die alle auch in der Holarktis verbreitet sind. Die Gattung Corynoptera Winnertz ist allein mit 32 Arten vertreten. Auf supraspezifischem Niveau ist kein endemisches Taxon bekannt. Die Verwandtschaft der neuseeländischen Fauna mit der der Paläarktis einerseits und der Mikronesiens andererseits wird diskutiert, wobei die Gattungen Epidapus Haliday und Corynoptera als Fallbeispiele herangezogen werden. Die Analyse der äußeren Morphologie der Sciariden-Imagines gibt Hinweise auf wenigstens zwei erkennbare Zeithorizonte innerhalb der heutigen Neuseeland-Fauna. In diesem Zusammenhang wird auf die mögliche Bedeutung tertiärer Landbrücken (innerer und äußerer melanesischer Bogen) verwiesen. Die Zahl der in Neuseeland anthropogen eingeschleppten Arten ist sehr gering. Der Band vermittelt Bestimmungsschlüssel für die Gattungen und Arten. Detailabbildungen für diagnostisch wichtige Merkmale aller derzeit bekannten neuseeländischen Sciariden-Arten vervollständigen die Bestimmungshilfe.
Stichwörter:
Sciaridae, Neuseeland, Taxonomie, neue Arten, Zoogeographie, Bestimmungsschlüssel