Milan CHVÁLA
The Types of Diptera (Insecta) described by Pater Gabriel STROBL. - [Die von Pater Gabriel STROBL beschriebenen Typen der Diptera (Insecta).]

ISBN: 978-3-932795-31-2
Pages/Seiten: 281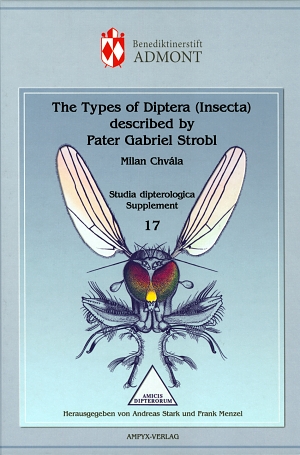 Father Gabriel Strobl (1846 – 1925), a dipterist of worldwide renown, spent most of his active scientific life as a priest and professor of natural science in the Benedictine monastery of Admont, a small town in the Styrian Alps of Austria. Between 1880 and 1910 he published some 50 papers, dealing mostly with the Alpine and south European (mostly Spanish) Diptera. He built up a celebrated Natural History Museum in the Benedictine monastery in Admont, and in particular an important scientific collection of Diptera that comprised more then 50,000 specimens of Diptera. Gabriel Strobl described a total of 902 new Diptera species-group names (species, varieties or forms), which are revised and discussed in the present monograph.
This publication gives details on all the type specimens housed in the Strobl Diptera Collection in Admont, their type-status, their designations and identifications, and also gives information on the possible location in other museums and institutions of type specimens that have not been found in the Strobl Collection in Admont. This book conforms to the EU and ICZN recommendations to publicise precise evidence about the location of all animal types. It is a publication that follows in the footsteps of previously published revisions of the type-material of Diptera published by A. C. Pont (1995) on the British dipterists G. H. Verrall and J. E. Collin, and by H. de Jong (2000) on the Dutch dipterist J. C. H. de Meijere.
The introduction to this publication also provides details on the history and significance of the Benedictine monastery in Admont for studies of natural history in Europe from the time of the Middle Ages to the present, as well as the recent history of the Natural History Museum in Admont. A brief biography of Gabriel Strobl and his significance for dipterology and for science in general is also given.
Table of Contents

Introduction
The Benedictine monastery Admont
A tour through the Natural History Museum
Biographical notes on Pater Gabriel Strobl (1846–1925)

Einleitung
Das Benediktinerstift Admont
Ein Rundgang durch das Naturhistorische Museum
Biografische Notizen zu Pater Gabriel Strobl (1846–1925)

The Diptera Collection of Pater Gabriel Strobl
Scientific work of Pater Gabriel Strobl
The publications
The collecting sites
The scientific collection
Descriptions of new species
The new arrangement of the Collection in Admont
Die Dipterensammlung von Pater Gabriel Strobl
Das wissenschaftliche Werk Pater Gabriel Strobls
Die Veröffentlichungen
Die Sammelorte
Die wissenschaftliche Sammlung
Die Beschreibungen neuer Arten
Die Neuaufstellung der Sammlung in Admont

Alphabetical list of species group names described by Gabriel Strobl
Alphabetical list of genus group names described by Gabriel Strobl
Appendices
Appendix A: Systematic list of taxa on species level described by Gabriel Strobl
Appendix B: Types of species in Strobl Collection described by other authors
Appendix C: List of taxa named after Gabriel Strobl.

Acknowledgements
References